13 Feb 2023
Specifically for data centres: High-performance battery from HOPPECKE is the answer to current and future market trends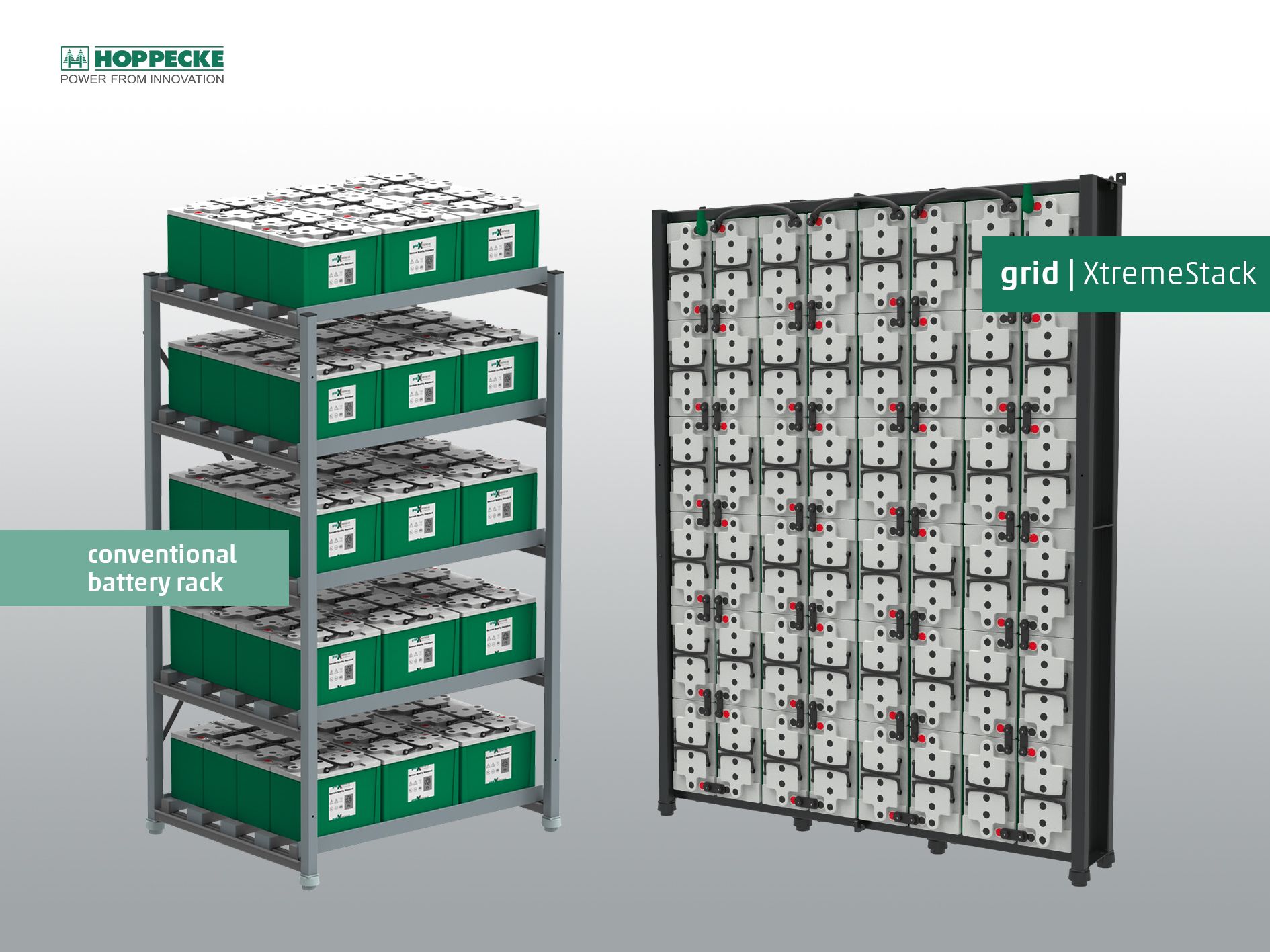 With the further development of its pure lead AGM technology, HOPPECKE has once again shown that it is necessary to actively break new ground to find optimum solutions for the rapidly changing needs of its customers. Through intensive development work and uncompromising optimisation, HOPPPECKE has succeeded in impressively mastering the challenges of urbanisation, energy transition, digitalisation and electromobility. A steadily growing share of renewable energies and the resulting fluctuating energy sources show that we will have to reckon with strongly fluctuating power grid quality in Europe in the future.
With the thin-plate pure lead technology, the grid | Xtreme VR needs little space, which has a positive effect on investment costs at the current high-cost level for real estate or technical infrastructure.
The air-conditioning costs at the battery installation site are also minimised, as these batteries can be used at higher temperatures compared to classic AGM batteries without a reduction in their life span. The low self-discharge rate of the grid | Xtreme VR enables a longer storage period and extends recharge intervals (to up to 24 months at a storage temperature of 20 °C). In short: the technical specifications of the newly developed pure lead battery reduce investment and operating costs and optimise the total cost of ownership (TCO).
Space is precious and exactly for this reason HOPPECKE has developed the grid | XtremeStack rack. Previously, data center had to stack their batteries on multiple levels in conventional floor racks, with batteries positioned one behind the other, with space in between. This is a structural design that not only takes up a lot of space, but also brings with it an additional difficulty: batteries in the middle and rear rows are hard to access and replace. grid | XtremeStack puts an end to all that. With the grid | XtremeStack rack, batteries are joined together quickly and easily without storage space. The special and unique arrangement of the batteries in the grid | XtremeStack can accommodate 1,632 batteries on a surface area of 44 square metres, instead of 1,340 batteries (in a conventional rack). This is an increase in power density of just under 22%.
Plug-and-play: The frame can be assembled in just a few steps. This is ensured by the small number of components, developed, and constructed on the poka-yoke principle. The new grid | XtremeStack rack can also be expanded quickly and easily. If the UPS power requirements change, additional stacking modules and batteries can be added or removed. This makes optimum use of the available battery space.