19 Jan 2022
Riello UPS Upgrades Sentryum Range With Two New Models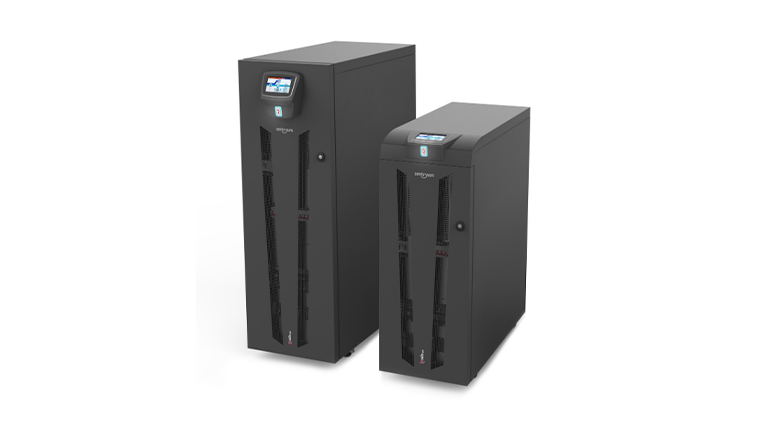 Leading uninterruptible power supply manufacturer Riello UPS expands its transformerless Sentryum series with new 30 and 40 kVA versions.
The two additions complement the 10-15-20 kVA models already available in the Sentryum range, which is the company's third generation of transformer-free solutions.
Delivering full-rated unity power (power factor 1) and up to 96.5% online efficiency, the Sentryum is designed to meet the needs of small and medium-sized data centres, as well as similarly mission-critical applications in the IT, telecoms, transport, and medical sectors.
The two new 30-40 kVA models come with a choice of cabinet sizes to maximise battery autonomy and optimise floor space. The Active (ACT) chassis can house up to two battery strings in a footprint of just 0.35m2, while the Xtend (XTD) option needs just 0.4m2 space and holds up to three battery strings.
Leo Craig, Managing Director of Riello UPS, commented: "With its combination of flexibility, performance, and compactness, the Sentryum has quickly become one of our most popular products. With these two new additions, it gives data centres and other similar applications even more options with which to protect their critical equipment."
As well as its exceptional efficiency and compactness, the Sentryum also features a unique control system that helps minimise harmonic voltage distortion, while it has outstandingly high overload and short circuit capacity too. This enables the UPS to deal with sudden peak loads without having to transfer to bypass.
Up to eight Sentryum UPSs can be paralleled together to increase capacity or redundancy. While the units also feature a large 5-inch touchscreen colour display panel along with an intuitive LED status indicator that changes colour depending on the operating mode and condition of the UPS system.
The Sentryum expansion comes hot on the heels of Riello UPS also extending its super-efficient NextEnergy (NXE) range of UPS systems with a new 600 kVA version.
Learn more about the expanded Sentryum series: https://www.riello-ups.co.uk/products/1-ups/130-sentryum
- ENDS -
About Riello UPS
Riello UPS Ltd is a leader in the manufacture of uninterruptible power supplies (UPS) and standby power systems from 400VA to 6MVA. The company is part of the Riello Elettronica group which has support offices in 85 countries.
Riello UPS products combine engineering excellence with high-quality performance and energy efficiency, to enable reliable power for a sustainable world. Our award-winning product range includes 23 solutions for powering the smallest desktop PCs to the latest supercomputers used in advanced data centre operations.
The UK branch of Riello UPS is located in Wrexham, North Wales, where we operate from large purpose-built premises comprising office and training facilities as well as a fully-stocked warehouse. This enables an end-to-end service of comprehensive technical support and fast product dispatch.
As part of the Riello Elettronica group, Riello UPS is an official sponsor of the Ducati Corse MotoGP and Aruba.it Racing World Superbike Championship motorcycle racing teams.
For further information visit https://www.riello-ups.co.uk