19 Jan 2022
Riello UPS Introduces New Modular Sentryum Rack Series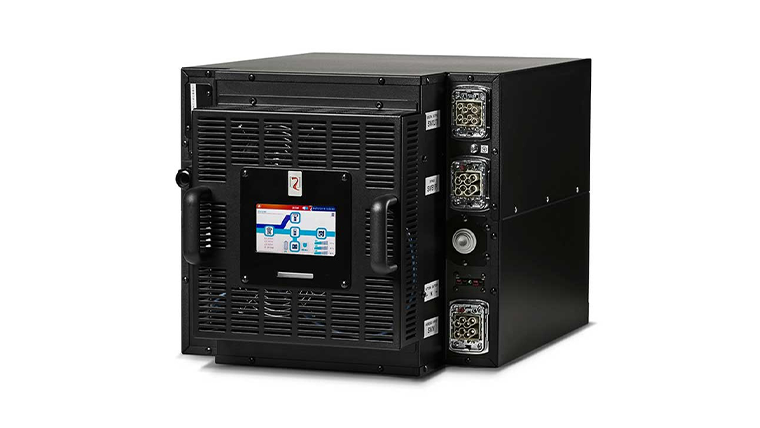 Riello UPS, the leading manufacturer of uninterruptible power supplies and standby power solutions, launches new product range specifically designed to ensure power continuity for industrial applications.
Based on its popular transformer-free Sentryum series, the Sentryum Rack is suited to sites prone to harsh environmental conditions, such as dust and humidity, or heavy industrial processes.
It is available as either a 20 kVA standalone rackmount UPS suitable for plug and play installation in standard 19-inch server racks or as a modular UPS which can easily be scaled up to a maximum capacity of 160 kVA.
The advanced design of the Sentryum Rack ensures that all the power connectors (input, output, batteries) are completely separated and isolated from the communications connections. This eliminates the possibility of any disturbance from the grid supply network, which can be a common issue in many industrial environments.
Available with either a single-phase or three-phase output, the UPS's advanced technologies deliver unity power (kVA = kW) and operating efficiency up to 96.3% in online mode. It can also handle short circuits (150% for 300 msec) and high overloads (150% for 1 minute), ensuring the system can deal with sudden load peaks without having to transfer to bypass.
Leo Craig, Managing Director of Riello UPS, commented: "The new Sentryum Rack combines the characteristics of our hugely popular Sentryum series, namely performance, high efficiency, and compact footprint, with the simple 'pay as you grow' scalability of a modular UPS.
"This makes it the perfect solution for use in factories, manufacturing plants, and other facilities where there are tough industrial processes or harsh environmental conditions."
The plug and play Sentryum Rack incorporates a sophisticated battery management system, while it is compatible with alternative energy storage solutions such as supercapacitors or lithium-ion batteries. It also features a large touchscreen colour display panel and an intuitive LED status indicator that automatically changes colour depending on the current status of the UPS.
Learn more about the Sentryum Rack: https://www.riello-ups.co.uk/products/1-ups/144-sentryum-rack
- ENDS -
About Riello UPS
Riello UPS Ltd is a leader in the manufacture of uninterruptible power supplies (UPS) and standby power systems from 400VA to 6.4MVA. The company is part of the Riello Elettronica group which has support offices in 85 countries.
Riello UPS products combine engineering excellence with high-quality performance and energy efficiency, to enable reliable power for a sustainable world. Our award-winning product range includes 23 solutions for powering the smallest desktop PCs to the latest supercomputers used in advanced data centre operations.
The UK branch of Riello UPS is located in Wrexham, North Wales, where we operate from large purpose-built premises comprising office and training facilities as well as a fully-stocked warehouse. This enables an end-to-end service of comprehensive technical support and fast product dispatch.
As part of the Riello Elettronica group, Riello UPS is an official sponsor of the Ducati Corse MotoGP and Aruba.it Racing World Superbike Championship motorcycle racing teams.
For further information visit https://www.riello-ups.co.uk