13 Nov 2023
OVERVIEW: @RACK Mobile Data Destruction System (MDDS)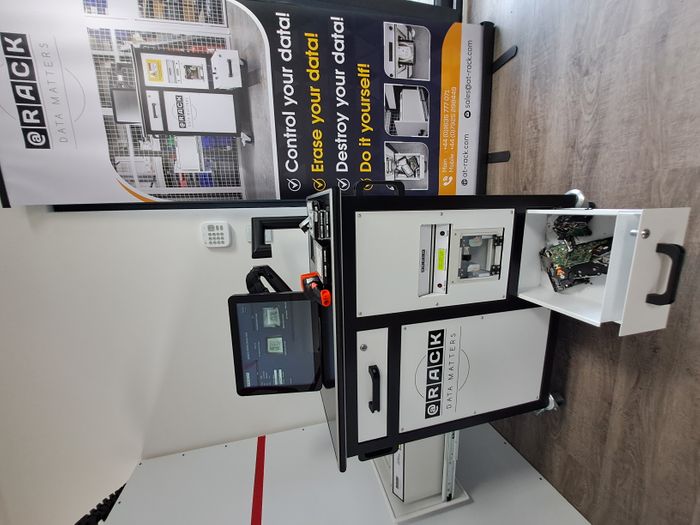 WHAT WE DO
Your Trusted Data Destruction Company
At @RACK Limited, we understand the importance of securely and permanently destroying sensitive data. Our comprehensive data destruction services ensure your confidential information remains unrecoverable, giving you peace of mind and compliance with data privacy regulations.
Our Data Destruction Services
Secure Data Shredding
Using state-of-the-art shredding equipment, we completely destroy hard drives, SSDs, tapes, and other media to eliminate all traces of data irreversibly. Our processes exceed industry standards for secure data destruction.
Degaussing
Our degaussing service uses powerful magnetic fields to erase data from magnetic media, rendering it unrecoverable. This method is especially effective for tapes and hard drives.
Physical Destruction
For end-of-life hardware, we provide secure physical destruction services. This ensures that data cannot be recovered from the devices, even if they are no longer in use.
Certificate of Destruction
Upon completion, we issue a Certificate of Destruction, providing proof that your data has been properly and securely destroyed and stored on our secure server for 5 years, meeting legal and compliance requirements.
Why choose Us?
Security Assurance: We prioritise data security and employ stringent processes in designing to ensure your sensitive information is permanently destroyed and cannot be recovered.
Compliance with Regulations: Our processes adhere to various industry standards and legal requirements, giving you the confidence that your data destruction is compliant.
Environmental Responsibility: We responsibly dispose of electronic waste following environmentally friendly practices, promoting sustainability and reducing environmental impact.
Customer-Centric
Our customers come first. We put our customers at the heart of what we do. We understand your need to be proactive in your data management and, most importantly, your data destruction procedures. Our dedicated team is committed to understanding your unique needs and tailoring our services to meet your specific data destruction requirements. We honour your commitments, and our solutions are there to help you through the journey with 24-hour support services.
Agile Designs
We design and manufacture data destruction technologies that fit all data-centric customers and users. We manufacture a wide range of products that are affordable, durable, time-efficient, easy to use, and help you comply with GDPR and other data management standards or procedures.
High Standards
We take pride in the quality of our products and services. We are determined to deliver the best data destruction technologies and continually improve our products with advanced innovative capabilities. We work with technology experts, researchers, engineers, and global distributors to understand our customers' needs and deliver high-quality products.
Security & Safety
Your data and information security are paramount. We manufacture and supply you with innovative technologies that will help you mitigate data leaks, and data breaches/compromises, and affirm that your data is completely and securely destroyed in a controlled in-house environment. We ensure that products meet your operational safety and procedures in mitigating hazards and risks from both internal and external sources.
Our Focus
DESIGN - BUILD – DEPLOY - SUPPORT
Design
We design the best and innovative range of technologies that meet our customers' current and future demands. Our engineers, programmers, design research teams, business developers, and decision-makers harnessed their expertise to ensure we have products specifically built to meet our customer's demands. Our innovative designs are built to fit into all sectors in compliance with the data destruction procedures of each region and territory in which we have a presence.
Build
We manufacture our data destruction technologies in a highly controlled and secure environment. We also go through approved standard testing and verification for every single product before we sell and distribute it to our suppliers worldwide. Safety and Security are our topmost priority, and we strive to ensure we put the interest of our customers first when it comes to data destruction security.
Deploy
We proactively diagnose and resolve issues associated with our products' design, manufacturing, and distribution. We have a global reach of dedicated distributors and partners serving our clients across the continents in Asia, Africa, North America, South America, Antarctica, Europe, and Australia (Oceania). We are expanding our territories and growing exponentially and constantly looking for more distributors and suppliers across regions.
Support
We do not only design and build; we also make efforts to satisfy all our customers. We partner with agents and engineers in all territories to ensure our customers derive the total satisfaction and support they need by using our products. Our global pre-sales and post-sales team, customer services, and engineers are always ready to help. We partner with agents and engineers in all territories to ensure our customers get the prompt help and assistance they need within 24 hours - We value our customers!
Our Solutions
Data Centres
We understand the importance of data, and we play a significant role in ensuring that Data Centres achieve high-security control over how their client's data are destroyed. Data Centres should not take any unnecessary risks – Data Security is paramount. This is why Data Centres must ensure that data is destroyed right on-site while data is still in their custody. This will altogether remove all risks associated with transporting inactive data and materials.
Our products are designed to enable data centres to destroy sensitive data within the data centre's environment. We also help you meet all data regulatory standards, requirements, and procedures and avoid non-compliance fines and penalties arising from data leaks, breaches, or compromise.
As an additional service, Data Centres use our data destruction technologies for revenue generation - this also boosts the confidence and trust of their client as reliable DC operator.
We are trusted globally for managing decommissioned equipment and secure data destruction, including magnetic drives, solid states, backup tapes, and other media storage devices.
Healthcare
The healthcare sector plays a critical role in every economy, requiring advanced technologies that consistently support their high standard operational procedures, data management, and data protection and security. Our tailored solutions enable every player in the industry, ranging from hospitals, pharmaceutical companies, clinics and medical centres, nursing and care homes, blood banks and dialysis centres, and rehabilitation centres, to embrace innovative technology in their data destruction procedures. Our products have testimonials from notable healthcare clients in helping them effectively carry out their duties of protecting private information and data. Our solutions also help the sector save huge costs, valuable time, and human resources in simplifying its data destruction procedures.
Government, Defence & Security
These are highly sensitive sectors when it comes to data destruction. The destruction of sensitive items by all government parastatals, military, ministries, and their partners should be undertaken through a secure and safe process with best-practice guidance. Our data destruction technologies have been developed to meet those robust procedures for a secure destruction process to mitigate threats arising from destruction processes such as accidental loss, emergency abandonment, espionage, hijack or vehicle theft, insider attack, and theft. This helps them improve services at lower costs by utilising advanced technology to increase efficiency and productivity.
Our products provide a third-party approach to confirm the highest level of protection and secure destruction of sensitive data on-site. That is why our manufacturing sites are highly secured and protected to maintain and sustain our reputation as a leader in data destruction technology design and manufacturing.
Financial Institutions
Notably, among the various types of institutions and sectors holding any identifying information and personal data of their clients or customers, banks and other financial institutions may have the most sensitive information. They not only have their customers' names, addresses, and phone numbers but also have their account information and sensitive security questions and answers stored on several storage devices.
These institutions are not limited to banks alone but also insurance companies, stock broking firms, asset and investment management companies, accounting and auditing firms, and other organisations that store consumer credit information or data.
Our data destruction solutions help financial institutions completely erase the data on their drives and destroy the drives or storage devices all in one place.
Private Organisations and End-Users
Data management and destruction security is everyone's business. Safe and secure data destruction is paramount from large corporate entities to private organisations and end-users. Do you require our data destruction technology as a client's service offering, or for your personal use? Our variety of data destruction products will help you achieve your requirements. Our products are rugged, durable, affordable, and top-notch quality in meeting your expectations. We will provide you with complete product lifecycle support anytime – anywhere.