01 Feb 2023
New Atkore Unistrut Aisle Containment System heads to Data Centre World 2023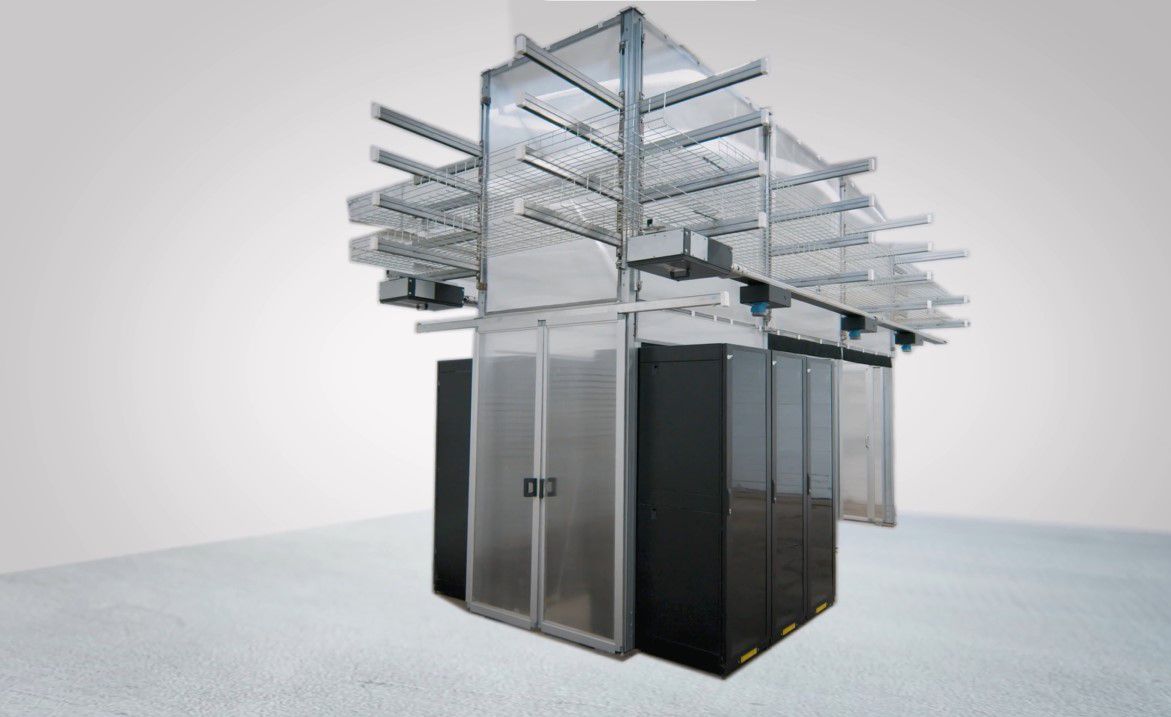 The new Atkore Unistrut Aisle Containment System – the latest concept in modular aisle containment for data centres – will be unveiled at Data Centre World (Stand D40, ExCel, London) on 8-9th March.
Exhibiting for the first time at the show, Atkore will also be showcasing a broad range of metal framing, cable management and flexible conduit systems from its leading international brands including Unistrut, Flexicon and Vergokan and Marco.
The Atkore Unistrut Aisle Containment System provides a fast and efficient means to manage heat dissipation. Benefitting from off-site manufacturing, every component part is precision cut and undergoes rigorous quality control to deliver a simple on-site installation.
The bespoke-design system comprises the containment enclosure and all cable management components, including cable ladders (welded and pre-galvanised), cable trays, cable baskets, and trunking. Finite element analysis, alongside consistent reproduction of all component parts in a controlled factory environment provides data centre managers with the additional assurance of reliability and dependability.
Mark Halsey, Global Product Director for Cable Management and Protection at Atkore[1], will be discussing the many benefits of this combined containment and cable management solutions' approach during the show. His talk, on the 8th of March 2023 in the energy efficiency, cost management and DCIM theatre will focus on the growing trend for offsite construction and how this can help data centre operators meet the custom needs of their project.
Modular, off-site construction
The modular design, as opposed to traditional on-site stick build, cuts installation time and complexity. This can reduce congestion with other trades significantly and increases the safety of the installation. For example, all component parts arrive pre-cut and require no onsite preparation or welding, eliminating the hazards of hot works.
The design can be configured to accommodate the needs of any project, with predictable and consistent costs. This includes adjustable bottom columns that account for variances in the slope of the floor and cantilever arm assemblies that enable quick, in-unison height adjustments.
To further improve the ease of installation, the new solution can be integrated with the proven Unistrut celling grid. This enables the system to be suspended from the ceiling, with cable management added or adjusted to suit.
High quality and repeatability
All products incorporated into the Atkore Unistrut Aisle Containment System meet global data centre specification and are designed according to DfMA (Design for Manufacture and Assembly) and FEA (Finite Element Analysis) methods. This provides a guarantee that they are both high-quality and fully standardised.
Daniel Tew, UK & Ireland Sales Director for Atkore Unistrut, comments: "Operators are facing increasing pressures to meet the global demand for data and need every advantage they can get to build at speed, without compromising on quality or increasing cost. That's why we're launching the Atkore Unistrut Aisle Containment System.
"Our engineers have purpose-designed the system to be fast and efficient to install and to reduce complexity on site. Built in our quality-controlled manufacturing facility, every component is cut to the desired length in a controlled environment and is therefore of a proven standard.
"All components will be manufactured in the UK or Europe and stamped with a batch number. This acts as a guarantee of their quality and enables them to be traced back to the steel manufacturer in the event of any issues.
"We're excited to be bringing our new Atkore Unistrut Aisle Containment System to Data Centre World 2023 and look forward to discussing its benefits with data centre professionals from across the globe at Stand D40."
Atkore Unistrut is a global provider of metal framing solutions and cable management systems that save on time, complexity, and cost throughout the construction industry. To find out more please visit www.atkore.com/dcw/
Notes for editors - Additional products exhibited at the show
Atkore Flexicon
Atkore Flexicon will be presenting its metallic and non-metallic ranges of cable protection and flexible conduit solutions for data centres. Essential for the protection of critical and vulnerable cabling, Flexible conduit offers speed of installation, combined with inherent flexibility and safety, to route cables from point to point.
Atkore Flexicon is a market leading UK manufacturer of cable protection solutions, offering over 62 different metallic & non-metallic flexible conduit systems for technically demanding applications.
Atkore Vergokan
Examples from Atkore Vergokan's innovative metal cable management systems will be on display, including cable ladders, (clickable) cable trays, basket trays and fire resistance systems. These boast high performance and easy installation, while at the same time offering reliability, solidity and carrying capacity.
With three manufacturing facilities across Europe, and worldwide distribution, Atkore Vergokan specialises in metal cable support systems to save installers time.
Atkore Marco
Atkore Marco will display products from its uPVC cable management systems and steel wire cable tray offering, designed to save operators time and money on their next project.
---
[1] Mark Halsey is an energetic business leader with a proven record of success gained working for Blue Chip organisations. He brings a practical hands-on approach to product development and problem solving, learnt at the start of his career as an electrician. Holding an MBA gained at Durham University Business School, he has been leading global product development teams for over two decades. In the last three years he has been Global Product Director, working for the rapidly growing Atkore business, with its headquarters in Chicago, USA.