27 Feb 2023
Kohler launch new UPS range at Data Centre World London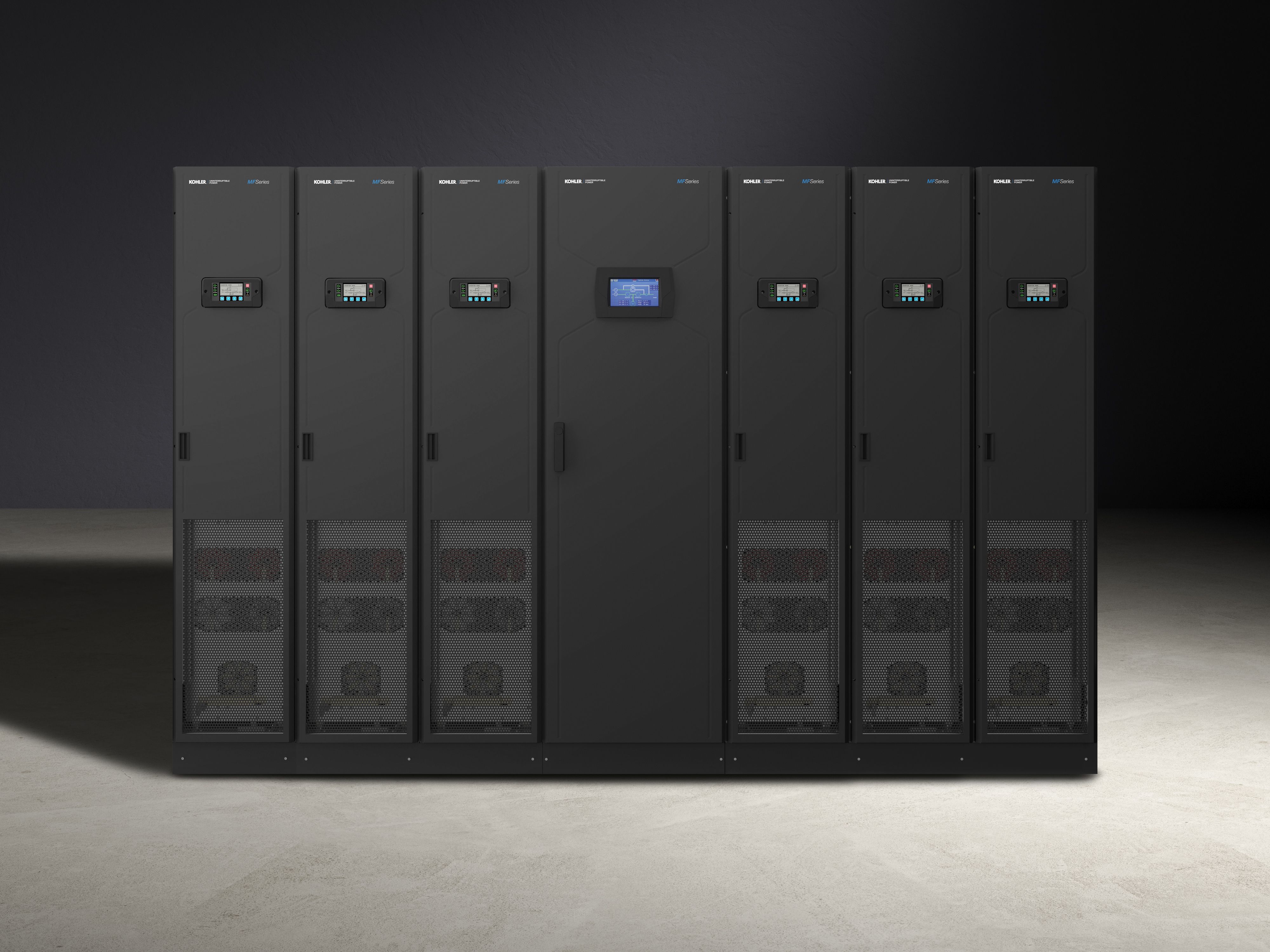 Data centre managers and users looking to find out more about energy efficiency should visit the Kohler Uninterruptible Power stand (D220) at Data Centre World at London Excel from the 8th to 9th of March 2023. On show will be the company's newest addition to its range of high power, high efficiency modular UPS, the MF Series. The company will also be showcasing its solution designed for medium redundant power applications from 50kW to 1.25MW (N+1), the KOHLER PW 9250DPA.
With a wealth of experience in providing power protection installations in data centres, Kohler's clients range from enterprises running their own in-house systems, through modular and medium-sized colocation datacentres right up to large and hyperscale facilities.
The products and systems offered by the company are highly configurable, scalable and efficient, enabling clients to buy for immediate requirements and easily grow their systems later. Advanced technologies such as XTRA VFI mode enable systems to put spare modules into standby mode when not required to support the load, but always maintain the required level of active redundancy.
Data Centre World 2023 will be the first outing for the new Kohler Energy rebrand, the company's strategic move to bring all its energy companies together under a strong, recognisable, visual brand. With 150 years of heritage and looking to the future, Kohler Energy is an energy resilience leader, delivering stability and confidence to individuals, businesses and communities with a range of solutions for clean energy, engines, generators and power.
The MF Series
Exceptionally resilient, flexible and scalable, Kohler's high power modular UPS MF Series offers best-in-market VFI mode energy efficiency of 97.4%, delivered across a wide operating range, typical for many applications. This energy efficiency redefines the lifetime cost for data centres and other high-density applications - without compromising reliability. The KOHLER MF Series modular UPS system also uses proven Decentralised Parallel Architecture (DPA™) technology with the latest advances in components and software.
Innovative, vertical slide-in modules enable resilient, high power density protection by reducing UPS footprint up to 45% over traditional approaches, without compromising access for installation and maintenance.
DPA™ products contain all the essential components of a UPS within each module, including the static switch, allowing independent operation. This enables modules to be hot swapped without affecting the rest of the system, easing maintenance, reducing system repair times to minutes and dramatically increasing availability.
Key features include:
Xtra VFI mode maintains high efficiency even when the load drops below 25%
Slide in vertical 250 kW modules enable the system to be scalable and flexible for all applications
Scalable to 6000 kW
Advanced design and components maximise system life
Also, on show on the stand will be the KOHLER PW 9250DPA, a true modular UPS for medium power applications in critical, high-density computing environments such as small to medium-sized data centres, plus industrial automation processes and healthcare facilities.
The PW 9250DPA offers up to 97.4% online efficiency and features Xtra VFI efficiency optimising technology. Its highly efficient modular architecture offers the best reliability for environmentally conscious organisations that need zero downtime and low cost of ownership. The PW 9250DPA also uses the same DPA™ technology as the MF Series, supporting 24/7 availability as the modules share no components and any fault can be isolated. Modules can be added or changed with no downtime, always protecting the critical load, without the need to transfer the load onto raw mains or remove the power.
Parallel redundancy can be employed, providing high reliability, automatically. Parallel redundant (N+1) UPS systems provide the highest level of reliability by ensuring that the number of UPS modules in a system is a minimum of one above the actual number required to support the critical load. This means if one fails, the load is still fully supported.
All this protection directly meets the need for continuous uptime, ensuring your power is always 'on', 24/7.
Rob Taylor, Director of Hardware Sales for the MF Series, says: "The MF series with its market-leading energy efficiency opens further opportunities in the data centre market for Kohler. We are excited to showcase these solutions at Data Centre World 2023 and to talk to customer and prospects about the next generation of UPS."
Ends
A global force in power solutions since 1920, Kohler Co. is committed to reliable, leading-edge products and comprehensive after-sale support. The company provides complete power systems, including generators (portable, residential, industrial, and marine), automatic transfer switches, switchgear, monitoring controls, and accessories for emergency, prime power and energy-management applications worldwide. For additional information, visit www.KohlerPower.com.
Part of Kohler Co.'s Energy Group, Kohler Uninterruptible Power (KUP) provides modular and standalone uninterruptible power supply (UPS) systems; centralised emergency lighting inverters; associated battery and monitoring systems; design, installation and maintenance services; plus standby diesel and renewable-fuel generators across the UK, Ireland and SE Asia. With a proven track record supporting critical applications in organisations ranging from commercial innovators to national governments, KUP is committed to service excellence that stretches from pre-concept design through lifetime support into replacement, backed by industry leading customer satisfaction and contract renewal rates.
For more details, please visit www.kohler-ups.com