02 Nov 2022
Data Centers: Meeting the high-density liquid cooling needs in the connected world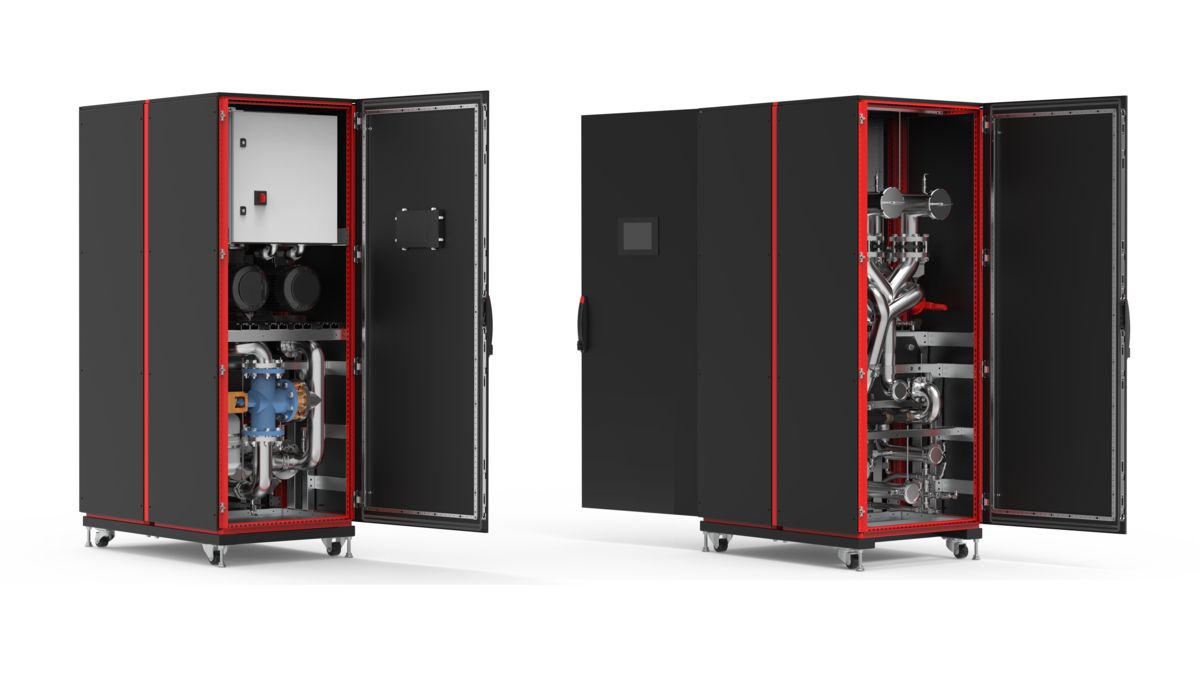 Compared to its air cooling predecessors, liquid cooling has only recently come into its own as the go-to standard for high-density, high-performance applications.
Historically, many data center managers relied on air cooling solutions to cost effectively manage temperatures, and deployed liquid cooling solutions on a rare as-needed basis.
nVent has manufactured data center high-density liquid cooling solutions for more than a decade. The CD800 extends the liquid cooling portfolio of integrated cooling infrastructure and makes nVent a one-stop shop for liquid cooling products. nVent offers a comprehensive range of standard and customized air, indirect and direct water-cooling solutions to protect IT assets, whether for smaller decentralized edge computing, harsh environments or large data center installations. The product portfolio includes:
• Air-to-liquid, liquid-to-air and liquid-to-liquid cooling
• Rack/row coolant distribution units (CDU)
• Rack and secondary fluid manifolds, as well as hose assemblies
• Immersion cooling Across its nVent HOFFMAN, nVent RAYCHEM and nVent SCHROFF brands, nVent offers the most complete and innovative thermal management solutions for a variety of applications to meet equipment protection needs.
From standard fan assemblies to air conditioners, heat exchangers, liquid cooling, leak detection, and more, customers can choose from more than 2,000 UL®- certified products for reliable operation and longer life of protected components.
Utilizing organizational knowledge gleaned from more than a decade building standard and custom rack/row liquid cooling products, as well as feedback from participating early adopters and empirical data from third-party lab test results, the nVent engineering team systematically refined the performance, heat exchange, flow and pressure delivery of the company's first-generation platform to ultimately deliver a new industry benchmark: the nVent HOFFMAN RackChiller CDU800.
A standalone rack, the RackChiller CDU800 can be deployed next to the IT racks, or in another room away from the IT, such as to limit the amount of liquid/water in the room housing the IT systems. The CDU800 is responsible for monitoring and controlling the overall system pressure, flow, and temperature. It also monitors the filtration pressure.
A facility manifold manages liquid distribution between the CDU and any number of IT racks, while the rack manifold further distributes liquid within the rack to any number of IT systems and cold plate loops. Uniquely tested and compliant with UL, the CDU800 consistently delivers liquid coolant to maximize cooling efficiency, while taking up very little data center floor space. It also reliably removes heat from sensitive equipment through a constant cycle of pumping and heat exchange.
Importantly, because of the validated empirical data gleaned through the product development and global testing phases, the performance of a given application can be accurately calculated within a 1% margin of error – mitigating the budgetary planning guesswork for data center managers.
Designed for reliability, availability and serviceability for close-coupled and direct-to-chip applications, the CDU800 provides 800 kW of liquid cooling capacity at 6 K approach temperature, and delivers high-performance liquid flow, pressure delivery and heat dissipation within a standard IT rack footprint. The platform is designed with N+N redundant pumps that provide up to 950 liters per minute secondary flow and 46 psi (3.2 bar) differential pressure. It also includes a smart control system that continuously monitors over 35 integrated sensors.
This combination, coupled with low approach temperature throughout the operating range, eliminates the need for costly chiller support and enables up to ASHRAE W45 warm water liquid cooling of high-power IT systems.
The pumps, sensors and filtration system are serviceable without incurring downtime or performance impact during operation. The main purpose of a coolant distribution unit (CDU) is to provide a steady flow and temperature of coolant to a variety of devices under changing operational conditions. The complete system is integrated into an aesthetical enclosure with a 10-inch color touch display, removable side panels and doors.
The CDU can install onto a slab or raised floor, in row with IT equipment racks or into a separate facility room. With this flexibility, the CDU can be installed in any environment and connected to facility plumbing with no need for modification. In addition, the system is fully enabled for remote access control, enabling true remote/lights out operational capabilities.