20 Sep 2023
Danfoss offers high capacity, oil-free compressors designed for comfort cooling, extreme ambient climates, and data centers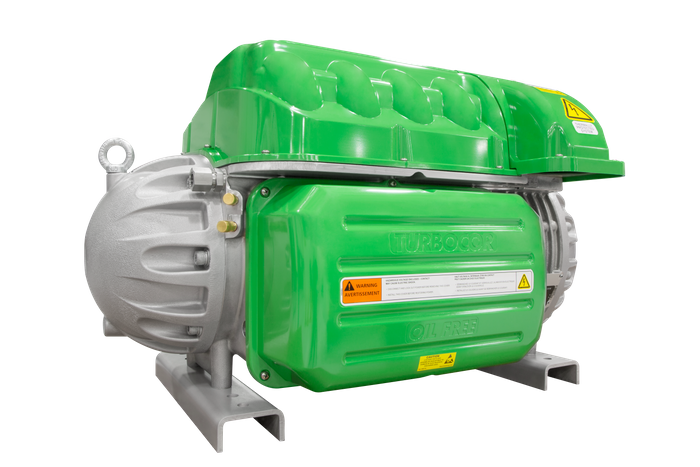 The new TGS380 and TTS450 compressors provide exceptional flexibility and efficiency to customers worldwide, operating in both heating and cooling applications, at extreme temperatures, and across a range of low Global Warming Potential (GWP) refrigerants.
Thanks to an expanded operating map, the TGS380 and TTS450 can be used in water-to-water heat pumps and heat-recovery applications, generating hot water up to 68°C (154°F). Both compressors can be used in air-cooled chiller applications operating in extreme ambient temperatures of up to 52°C or 125°F. They generate water temperatures up to 30°C or 86°F when used in data-center applications.
Customers can now create simpler, energy-efficient solutions and market the same design globally.
Danfoss Turbocor® offers the only oil-free compressors that can operate in both heating and cooling applications and at high ambient temperatures while providing a larger, more precise capacity option. In air-cooled chiller applications, OEMs can reduce the number of compressors in their chiller designs, in favor of a simpler solution. This can reduce costs and allow for easier installation and less maintenance.
The latest additions to Danfoss Turbocor® are compliant with refrigerant regulations in the EU and North America. The Turbocor® TGS380 is optimized to use low-GWP refrigerants HFO-1234ze and R515B, while TTS450 is optimized to use R134a and low-GWP R513A, which can help customers comply with evolving regulations, minimize carbon emissions, and meet increasing environmental standards.
Danfoss Turbocor® compressors feature a unique magnetic bearing technology that eliminates the need for compressor oil management, resulting in less maintenance and greater energy efficiency throughout the system. Magnetic bearings also contribute to a longer expected machine life, as they are not subject to the performance degradation or mechanical wear associated with oiled compressors and offers the largest range of oil-free compressors for low GWP refrigerants.