24 Feb 2022
Connect Your Data Centre For Future Growth with HUBER+SUHNER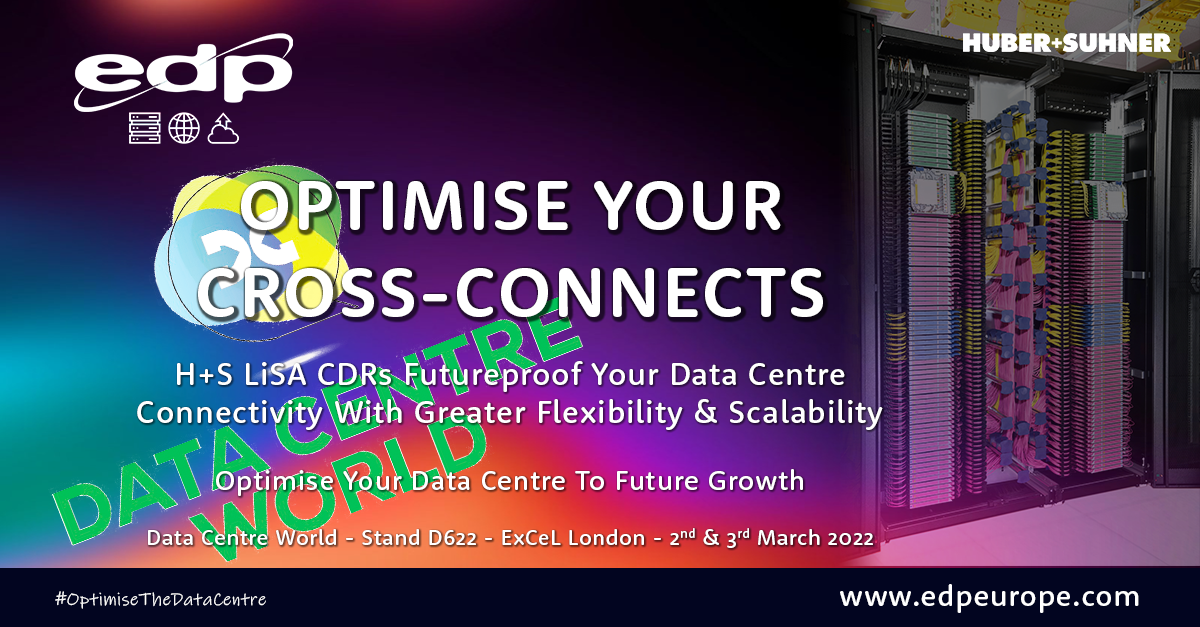 HUBER+SUHNER is a leading manufacturer of advanced fibre connectivity solutions that provide greater flexibility to manage and scale your fibre connectivity according to demand.
The latest Cabinet Distribution Rack (CDR) is a high-density Optical Distribution Frame that provides centralised management of cross-connects and inter-connections within Meet Me Rooms and Main Distribution Areas of Data Centres. With an incredibly small small footprint, CDRs can be positioned against walls, back-to-back or at the end of a row of cabinets preserving more valuable floorspace for revenue generating equipment.
CDRs have a modular design and allow different fibre and connector types to be housed within the same rack. Its C-frame design allows easy front access to all equipment and cable management. . Thanks to its modularity, additional fibre trays can be added and the solution scaled up as network connectivity demands evolve. Using MTP connectivity the solution supports 1,080 ports, that's 25,920 fibres!
For a fast, flexible and future-proofed connectivity solution for 19" racks there is the HUBER+SUHNER IANOS system. With its modular and scalable design, IANOS supports high-density connectivity requirements from 10G to 40G & 100G+. It provides a flexible and cost-effective method of deploying Day 1 network infrastructure while offering a seamless upgrade path to faster and higher bandwidth applications. Various modular cassettes are housed in 1U or 4U chassis within easily accessed pull-out trays that feature integrated patch cord management and clear labelling that allows for easier Moves, Adds and Changes (MACs).
The increasing adoption of MTP connectivity with its associated benefits to support high-density and high-bandwidth network requirements; driven by parallel optics applications, has also been improved with the introduction of MTP PRO connector, which is used with HUBER+SUHNER MTP trunk cables. MTP Pro is the next generation connector that enables quick and effective polarity and gender reconfiguration in the field; lowering expenditure by reducing the number of cables needed to kept on hand. Used in SR4 40G and 100G networking, the MTP Pro connector is designed to reduce the risk of damage to the ferrules with a longer insertion and extraction sleeve that relives strain on the cable, making connector mating much easier and safer.
These solutions, in conjunction with other solutions from HUBER+SUHNER, enables fibre connectivity installed today to grow with the demands of tomorrow.
For more information about HUBER+SUHNER solutions or other services and solutions provide by EDP Europe please visit Stand D622 at Data Centre World, London on the 2nd & 3rd March or contact us by emailing sales@edpeurope.com
About EDP Europe
EDP Europe specialises in the supply of critical infrastructure solutions and services for the Data Centre and Enterprise IT Environments. Building on over 30 years of experience, EDP Europe focuses on providing a broad portfolio of leading-edge systems designed to optimise the overall performance of its customers' Data Centres. From design & build to ongoing operational management, EDP Europe can support throughout the lifecycle of a Data Centre / computer room to increase efficiency, resiliency, flexibility and security. Helping to optimise the Data Centre for the needs of today, whilst future-proofing it for the demands of tomorrow.