24 Feb 2022
ColdLogik Delivering Energy Efficient Precision Cooling For High-Density Computing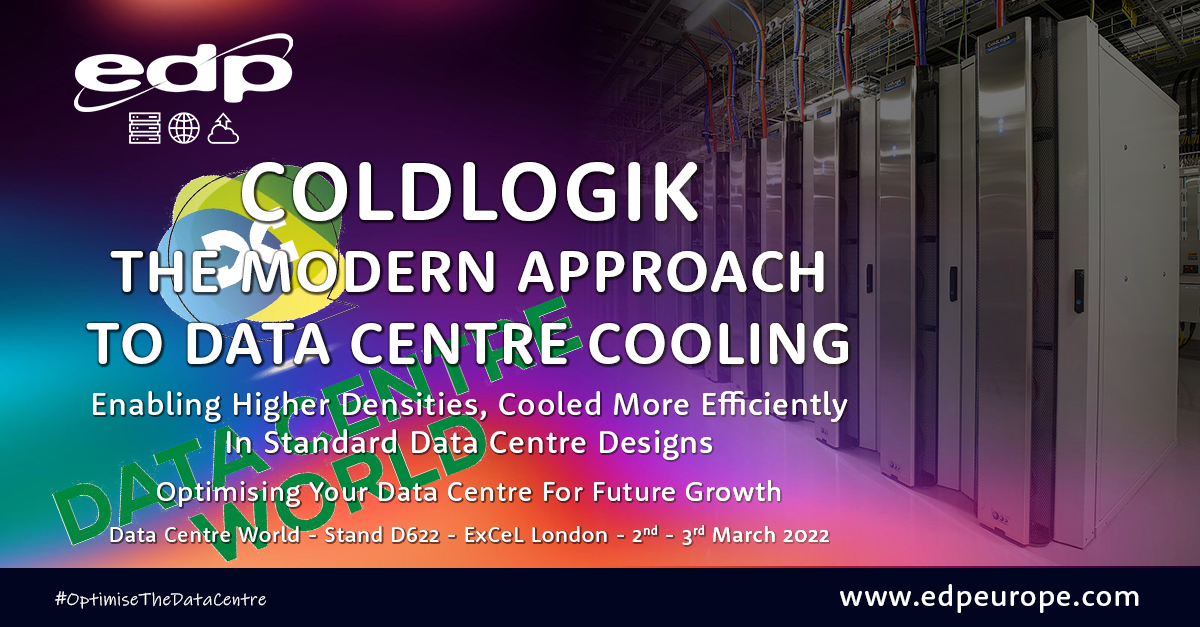 ColdLogik, available from EDP Europe Limited, is a range of Rear Door Coolers that are capable of cooling rack heat loads from up to 29kW to up to 200kW.
ColdLogik takes a modern approach to Data Centre design that is robust, adaptable and ready to control the whole room temperature from a single solution and do it in a more sustainable and profitable way.
Unlike traditional Data Centre designs that use CRAC units to provide the cold conditioned air to cool IT equipment, ColdLogik utilises Air Assisted Liquid Cooling or AALC and negates heat at the source removing the need for air mixing or containment systems.
AALC uses the ambient air within the room to cool the IT equipment. As air is pulled through the IT equipment, the exhausted hot air is drawn over the heat exchanger in the cabinet's rear door by fans. Liquid cooling within the exchanger is used to remove the heat and new chilled air is expelled into the room.
Liquid cooling has a high heat capacity and thermal conductivity level making it a more efficient way of cooling the Data Centre. ColdLogik AALC reduces energy usage, lowers carbon output and results in operational savings. ColdLogik utilises a closed loop system that allows it to use less water and use higher water temperatures. The system can also incorporate a patented leak prevention system.
With various heat exchanger door models available that can cool up to 200kW, the ColdLogik solution delivers a level of precision cooling that enables it to meet the cooling requirements for higher rack densities needed to meet the demands of high-density computing now and in the future.
For more information about the ColdLogik system or other services and solutions provide by EDP Europe please visit Stand D622 at Data Centre World, London on the 2nd & 3rd March or contact us by emailing sales@edpeurope.com
About EDP Europe
EDP Europe specialises in the supply of critical infrastructure solutions and services for the Data Centre and Enterprise IT Environments. Building on over 30 years of experience, EDP Europe focuses on providing a broad portfolio of leading-edge systems designed to optimise the overall performance of its customers' Data Centres. From design & build to ongoing operational management, EDP Europe can support throughout the lifecycle of a Data Centre / computer room to increase efficiency, resiliency, flexibility and security. Helping to optimise the Data Centre for the needs of today, whilst future-proofing it for the demands of tomorrow.