24 Feb 2022
Bergvik Dynamic Raised Floor Solution Optimises Data Centre Space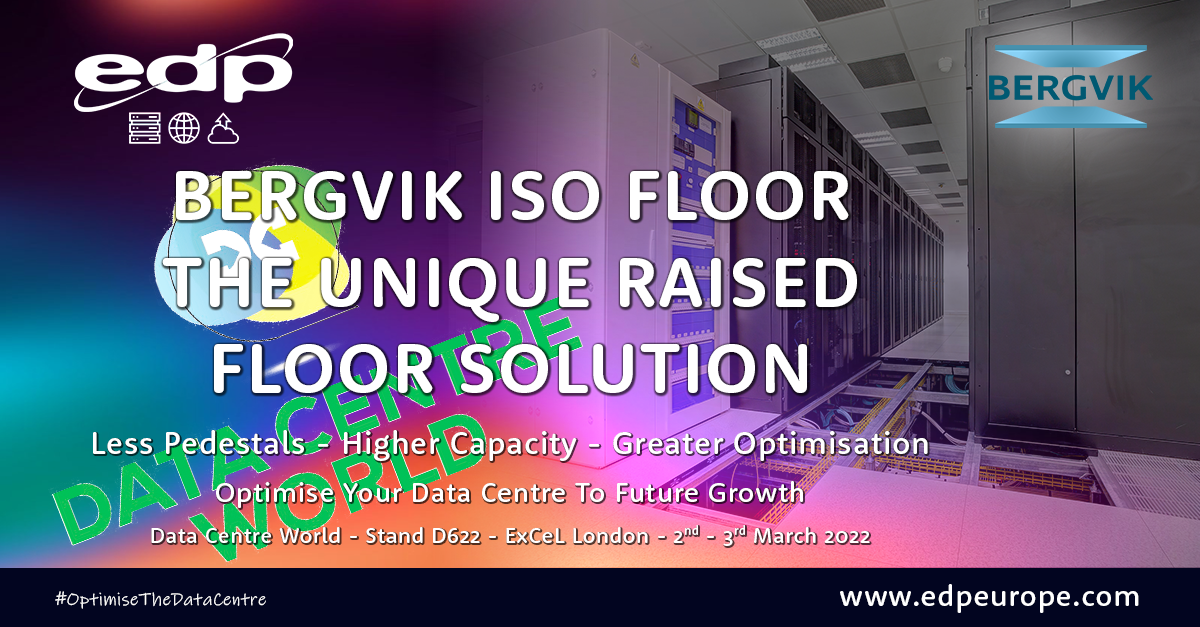 Bergvik Iso Floor is unlike any traditional raised floor system. Instead of pedestals on every corner of a floor tile, Bergvik Iso Floor utilises a self-supporting steel sub-frame that provides high-lateral stability, even when all the floor tiles are removed.
The unique design of the Bergvik Iso Floor sub-structure means that it requires up to 70% fewer pedestals than a traditional raised floor system. This drastically reduces the time taken to install the raised floor. This increased flexibility also enables Iso Floor to cope better with areas where there are changes is subfloor height, even if it slopes.
As the sub-structure is fully stable once constructed it facilitates easier installation of service infrastructure, such as pipework and cables, as there are no floor tiles required that can hinder access. Also, the sub-structure is designed to support heavy equipment such as CRAC, UPS units directly on the frame so removing the requirement of costly equipment stands.
Other advantages provided by the sub-frame design include fewer grounding points; just two points are required to ground the entire floor. With fewer pedestals the space within the underfloor plenum is increased enabling better optimisation of cabling infrastructure, improved access to building services and better airflow.
The design of Bergvik Iso Floor also allows users to move away from restrictive traditional 600mm x 600mm tile layouts. Instead, it uses multi-sized floor panels which enable optimised equipment layouts, that provide full access to the underfloor plenum and also makes it possible to get up to 25% more equipment on the same floor footprint when compared to traditional pedestal floor systems.
With this incredible flexibility Iso Floor enables the construction of raised floors with heights from 300mm to 2400mm in non-seismic zones, even within the same area.
EDP Europe in conjunction with our sister company Critical Facilities Solutions has supplied and installed Bergvik flooring as a key element of large power infrastructure projects designed to deliver renewable energy between the UK and Nordic / European countries. To find out more about this project please visit https://bit.ly/3BAc3M1
For more information about Bergvik Iso Floor or other services and solutions provide by EDP Europe please visit Stand D622 at Data Centre World, London on the 2nd & 3rd March or contact us by emailing sales@edpeurope.com
About EDP Europe
EDP Europe specialises in the supply of critical infrastructure solutions and services for the Data Centre and Enterprise IT Environments. Building on over 30 years of experience, EDP Europe focuses on providing a broad portfolio of leading-edge systems designed to optimise the overall performance of its customers' Data Centres. From design & build to ongoing operational management, EDP Europe can support throughout the lifecycle of a Data Centre / computer room to increase efficiency, resiliency, flexibility and security. Helping to optimise the Data Centre for the needs of today, whilst future-proofing it for the demands of tomorrow.